Features you won't be able to do without!
Discover why Eudonet CRM will make your team more collaborative
 and efficient on a daily basis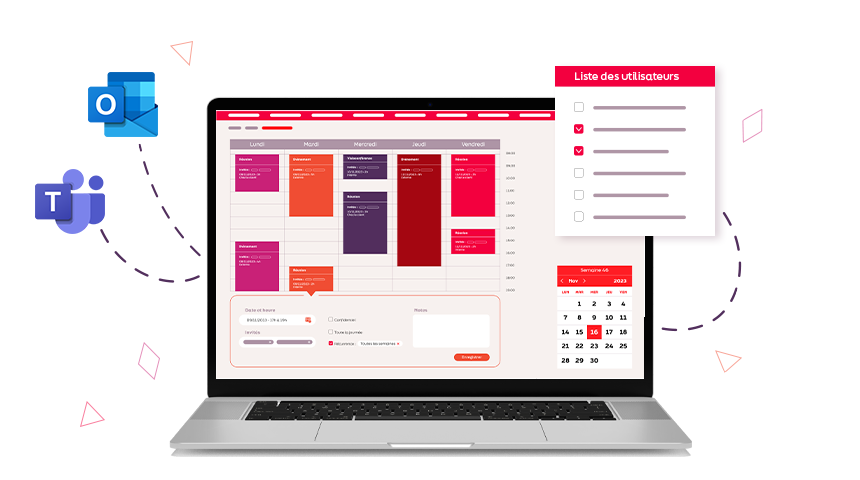 Collaborative working has never been so easy!
Your team is more united than ever around your missions! Thanks to Eudonet's collaborative agenda, you can plan and distribute tasks, arbitrate each action, and also manage absences for better internal organisation.
Give yourself the means for effective collaboration! From the shared agenda, you can create the meetings necessary for the progress of your projects and manage the internal resources essential to your work: meeting room, computer equipment, vehicle, etc.
Marketing & multichannel communication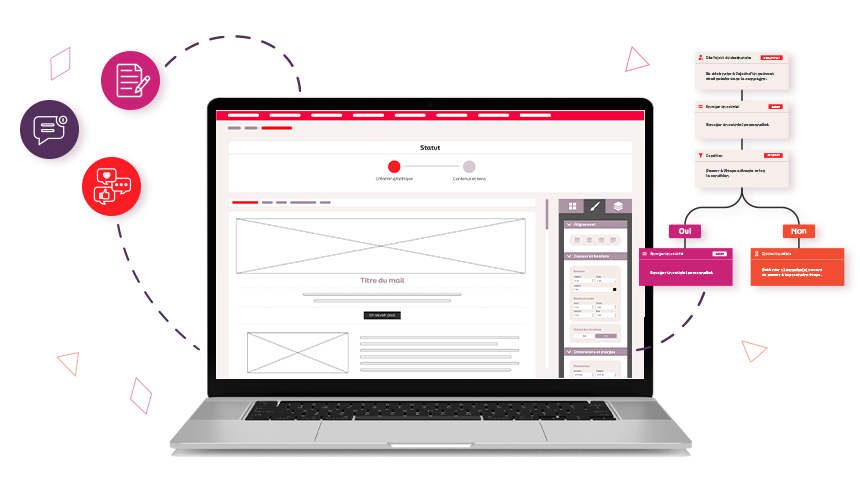 Connect to your customers like never before!
Gain relevance and target your communications to the right audience at the right time. With Eudonet, you can segment your database according to the filters and criteria of your choice. Use all the contact details at your disposal to reach all your contacts on every channel: email, SMS, calls and social networks.
Let your imagination run wild and design your own communication to be identified and remembered! Create your own email templates, mailings and web forms from the Eudonet publishing studio and reuse them endlessly!
Marketing automation, tracking, forms and landing pages: everything for highly effective campaigns!  Plan and script your campaigns, and measure the impact of each communication.
To make sure you reach the maximum number of people, Eudonet verifies the email addresses, the quality of your messages, and improves the deliverability of your campaigns.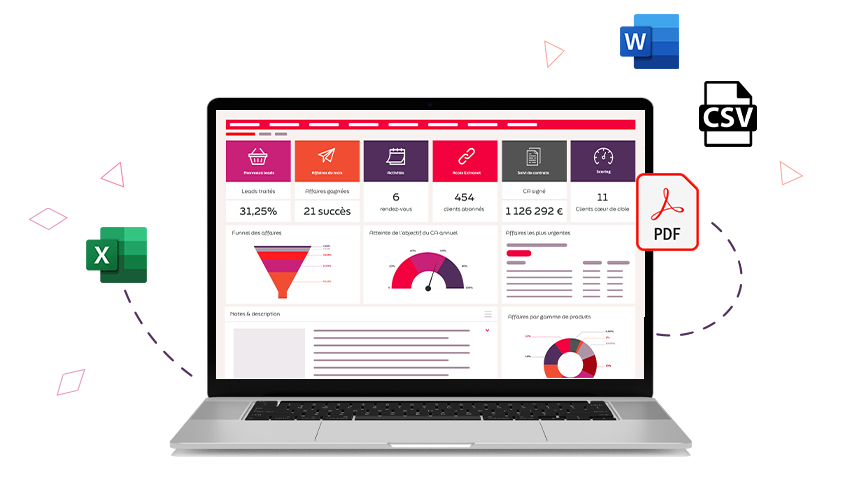 All your key performance indicators at a glance
Everything you need to make informed decisions! Your Eudonet dashboards give you a 360° view of your business and allow you to measure your ROI easily.
You can also edit your reports in Word, Excel, CSV or PDF in order to share your reports with your colleagues.
A clear and personalised vision for your entire organisation! Create and modify your dashboards endlessly so that they reflect the reality of your employees' activities. Share them and manage viewing rights to make your work even more collaborative.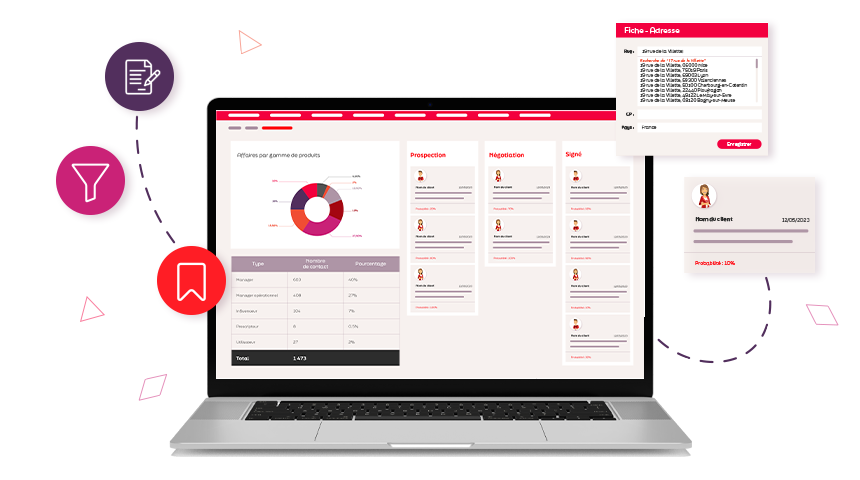 Save time by navigating easily
A 360° view to easily find the information you need! With Eudonet, you choose the display mode that suits you: sheet mode, list mode, kanban… The filters and advanced filters allow you to highlight the information that is useful to you! At Eudonet, we put ergonomics at the service of your performance!
All the features for your efficiency! To save time, Eudonet offers fast input, voice dictation, phonetic search and auto-saving. Moreover, by aggregating your data, you can easily perform statistical analyses and mass processing.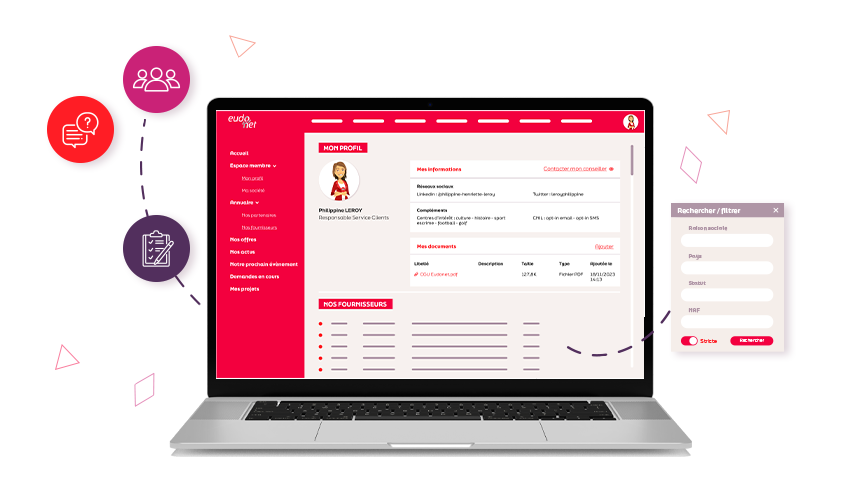 Connect with your customers like never before and personalise your relationship even more
Protect your interactions and data with a dedicated space! With Netanswer, offer a platform with secure connection and authentication where you can modify data in real time and share your documents with your contacts.
Significantly improve your customers' experience! The Netanswer front-end allows your contacts to make appointments, register for your events, create request tickets, subscribe to products and services and pay online. Everything to ensure their satisfaction!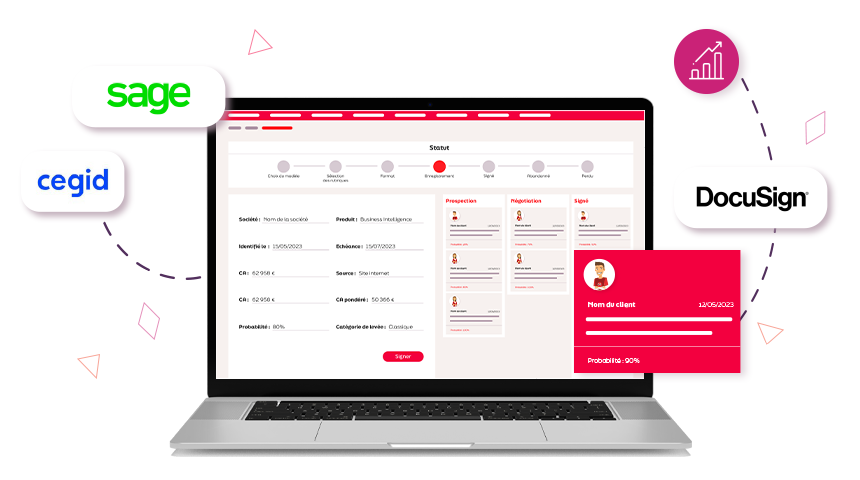 Seize all opportunities by optimising your sales processes!
Your offer is clearer than ever! Description, terms and conditions, pricing, packages, documentation: manage your entire catalogue efficiently from Eudonet.
A faster sales cycle! Eudonet's Gescom features allow you to easily edit your quotes, invoices and reminders. And with the electronic signature, the validation workflow is more fluid.
A follow-up more efficient than ever! Whether for orders and services or payments, you can manage the sales cycle from A to Z with peace of mind. With its accounting interfaces (Sage, EBP, Cegid) you can manage everything from your Eudonet.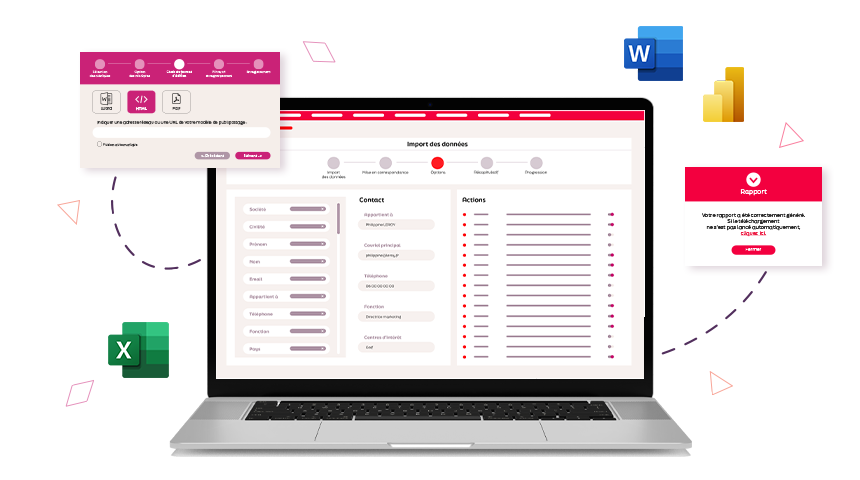 All your data centralised and ready to be processed
Data gathered and consolidated in a single tool for a global view! Import your data into your Eudonet from external files (Word, Excel, CSV, PDF) and map them to your database. Thanks to the deduplication keys, merge duplicates for a database without redundancies.
A snapshot of your data at a given moment for a precise view of your activity! With Eudonet, you can export your data and indicators at a precise moment of your fiscal year and share them in Word, Excel, HTML or PowerBI format.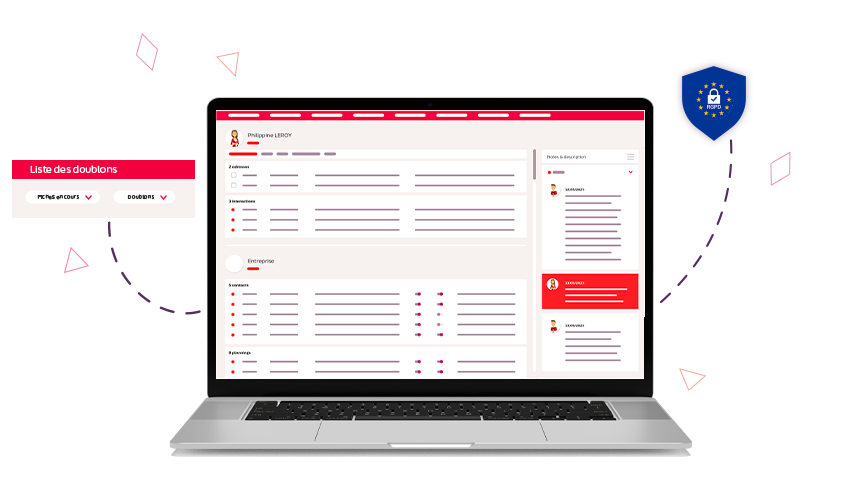 Full knowledge of each contact for an ever more personalised relationship
A shared address book so that everyone has the same level of knowledge! Create and modify your records in real time, import your external files, map the data so that they fit naturally into your database, and create deduplication keys to avoid redundancy. By centralising exchanges, everyone has a global view of the relationship.
Sleep soundly, your data is protected! With Eudonet, you can manage the rights to use, modify and view your contact records according to your users' profiles. Moreover, Eudonet is GDPR-compliant: you can manage the consent (opt-in / opt-out) and preferences of your contacts, anonymise, archive and delete your records.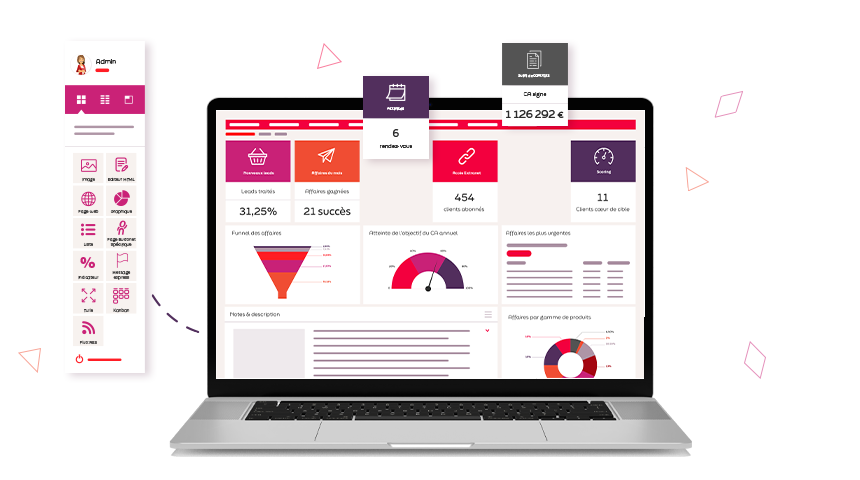 A 100% customizable solution, 100% you!
Let your imagination run wild and create an Eudonet that reflects your identity! Create the design of your screens by simple drag and drop and see the result in real time (WYSIWYG). Customise your working environment: language, display values, naming, mandatory fields, tooltips, etc.
Protect information internally! While Eudonet promotes collaboration, your data does not concern your entire organisation. With the administration console, you can set the rights to view and modify data by type of employee, for a specific group or even a specific person.
Go way further, way faster !
Dozens of partner extensions are waiting for you to make your Eudonet the complete CRM solution of your dreams. Ensure your teams and organisation are more efficient and perform better.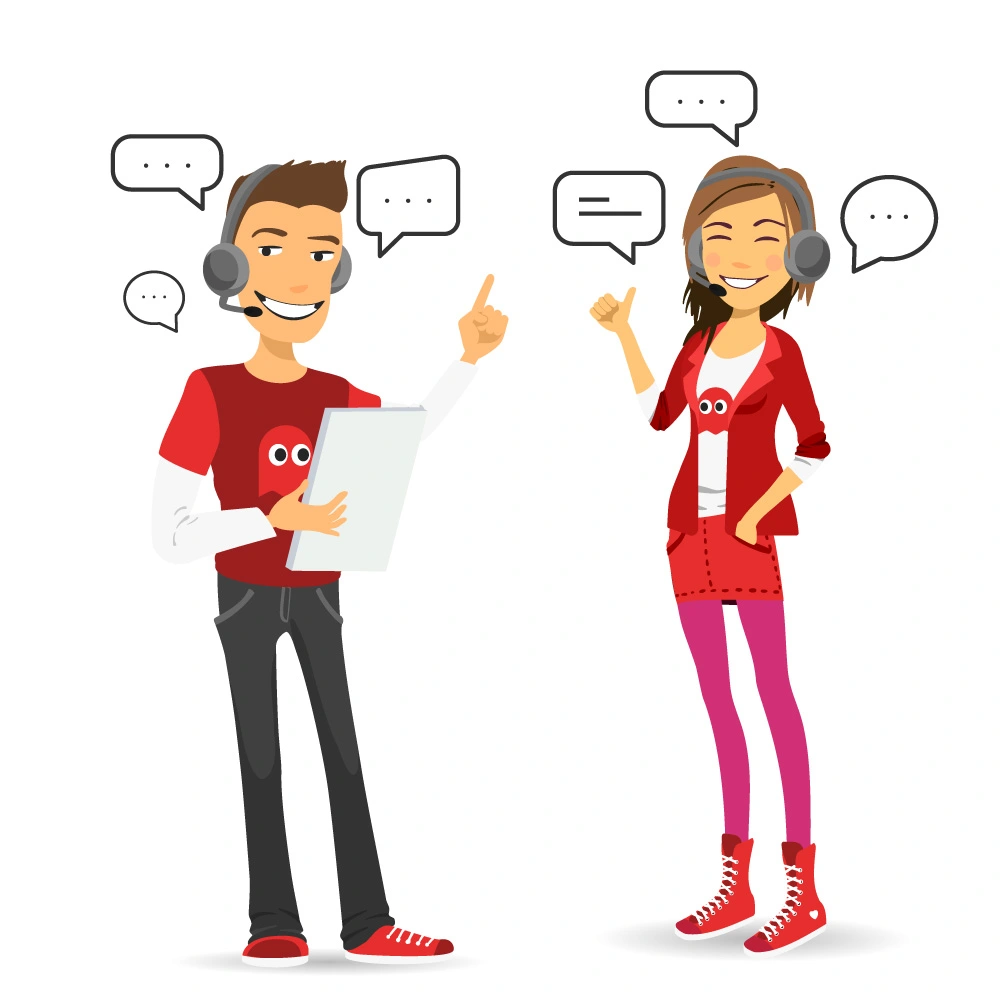 Request a demo with a member of the EudoTeam!
Discover the Eudonet solution and all it can do for you during a tailored demo with one of our experts!