The health crisis is causing an unprecedented dark period for cultural institutions. While a majority of museums, theaters, tourist sites, and performance venues have long relied on the generosity of their audiences to fund innovative artistic offerings, the practice is now expanding in order to maintain cultural offerings. It has become democratized and taken on new forms, making it necessary to equip oneself with tools and skills to meet this new challenge.
Patronage: Everyone is getting in on it!
Cultural patronage is a practice that can be considered ancestral without too much exaggeration, since it was our Italian neighbors who first established this concept more than 2,000 years ago!
Since then, initiatives and methods have been widely developed, becoming an essential development lever in sports, social, health, education, solidarity, research, environment, and culture.
To such an extent that today we value at nearly 3.6 billion euros the amount of donations made by companies in 2018! If we add to that the 2.5 billion euros in donations made by individuals, we exceed the 6 billion euro threshold. An amount that opens up prospects!
While some associations have regular donors who help keep the activity going on a daily basis, others are constantly searching for opportunities to develop new projects.
It is based on this observation, particularly in the cultural world, that new initiatives and forms of patronage are emerging. Today, fundraising and patronage campaigns are breaking free from their historical boundaries to seek new contributors outside of known circles of contacts such as visitors, major private donors, or individual or corporate patrons.
Take the example of the Culture-time.com platform which, for several years now, has been offering cultural institutions support in setting up fundraising campaigns with new, not yet known contacts.
The principle is simple. On a web platform type, cultural institutions open a cultural project for which external funds are necessary to see it through. They then work together to build a dissemination and animation strategy to ensure that enthusiasm lasts over time and that the fundraising goal is achieved.
This new form of patronage allows cultural institutions to reach a new audience by relying on a logic of circles of contacts. Each person can share this project with their entourage, via social networks, for example, and thus produce a wave of dispersion that multiplies! And for the institutions that have set up this project, the interest is twofold: finding a new source of funding, while enriching their list of donors… And this is not counting other platforms such as Ulule, KissKissBankBank, or Touscoprod, which offer the possibility for everyone to become a patron to the extent of their means: this is crowdfunding.
For Participatory Patronage, the challenge is then to know who these donors are, to get to know them, and to maintain a privileged and personalized relationship with each of them to retain them… This is where "CRM" comes in.
Managing donor relationships, or how CRM can support cultural development
Surprisingly enough, CRM tools are also expanding beyond their traditional scope and are being used to support cultural institutions in their development activities. This is the approach that Eudonet CRM has taken, by verticalizing its application to meet the current and future needs of museums, tourist attractions, and live performances.
Previously, contact management applications were primarily used by communications departments to track press and public relations. However, the massive digitization of data (BigData) and exchanges has created an awareness of the wealth of information held by each department of institutions, and the importance of sharing this information in the service of overall institutional development.
Recently, it is the donor and donor relations departments that have shown a strong and growing interest in these solutions. The observation is simple: in a context of constrained public funding, it is necessary to find innovative ways to finance innovative artistic and cultural offerings. Therefore, it is necessary to implement sponsorship strategies that generate interest in donors, raise their awareness of the institution's actions, and maintain a privileged relationship with them to be able to solicit them when necessary.
This added value is generated by a CRM solution: to know, animate, retain, and develop. CRM is more than just a tool, it is at the heart of the information system of cultural institutions and will collect a set of data from various sources to achieve the same goal: knowledge of contacts, particularly donors.
The centralization of information presented in the example above, as well as its sharing and analysis, makes it possible to create useful synergies for all departments of the institution, particularly sponsorship and partnerships.
Here are some concrete examples:
Better understanding your contacts
Connected with business tools and the website, the CRM allows you to collect information offering a global vision of contacts, their interests, and their latest interactions.
Communicating effectively and engaging the community
By relying on selected criteria, you can segment and "score" your contacts. Using criteria such as the number of tickets purchased, donations made, purchase of services or interests, your communication is more personal, allowing you to create proximity with each contact and establish a long-term relationship.
Ultimately, CRM is a real lever for patronage, allowing you to act on three points for an effective and successful strategy: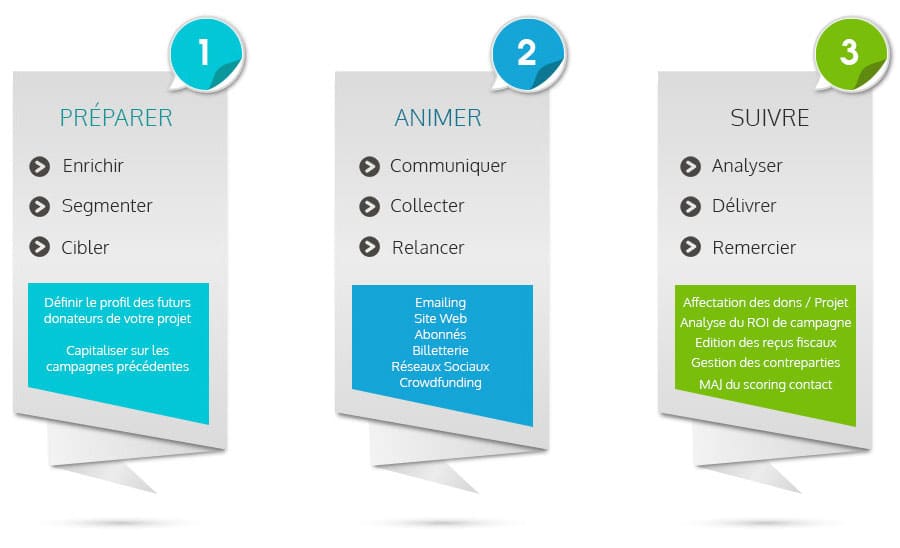 And the benefits of integration between CRM and Patronage are quickly visible, as explained by Marie Victoire Abbou, Head of Patronage and Development at the Aix-en-Provence Festival:
"Patronage and development allow us to cover 17% of the festival's budget. The CRM is connected to our ticket office and allows us to manage the entire donation process, from solicitation to issuing the tax receipt. Eudonet allows us to save time, be more efficient, and offers us a personalized approach to our contacts, with a global strategic vision."